Big Fish: Our Autumn Musical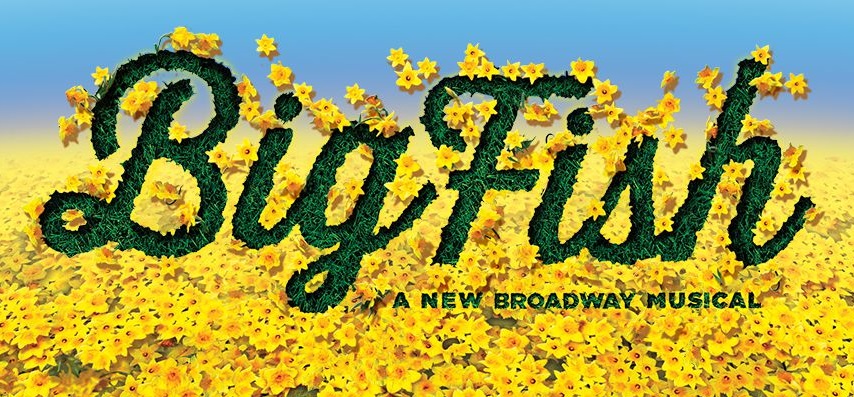 You will already know that our Autumn 2019 production will be Big Fish to be performed at The Mitre Theatre, Trinity School w/c 20th October. This is a new musical that hasn't yet been widely performed by amateurs, following a successful and well received run at The Other Palace last year.  The music is fabulous and there are lots of colourful characters and we would ideally like to do it with a cast of about 30. Julia Ascott is directing, Jo Morrison choreographer and Shaz Dudia MD.
Other important dates for you: Presentation Evening on April 28th
Auditions straight after the AGM on June 9th
with rehearsals starting on 1st September on Sundays, Mondays & Thursdays.
Deathtrap: 16th to 19th April
In April 2019, the Mitre Players will be presenting a wonderful, award-winning thriller, called "Deathtrap" by Ira Levin.
This exciting, award-winning play will keep you entertained and gripped from start to finish.  Sidney Bruhl, a successful writer of Broadway thrillers, is struggling with a touch of writer's block when he receives from a student a script which Sidney recognises as a potential hit.  He invites the young man to the comfortable Connecticut home that he shares with his wife, Myra, and the plot begins its twists from there! 
Full of suspense and surprises, it is the longest-running thriller ever to have run on Broadway.  Ira Levin takes the basics – murder, deceit, dialogue with hidden sinister meanings and plot reversals – and contorts them again and again. 
As the plot develops, it will make you gasp and it will make you laugh.  Come and be spellbound!
Performances: Tuesday 16th – Friday 19th April at The Clubhouse
Tickets - £12 including programme can be ordered from THIS PAGE   Full details can be found on THIS PAGE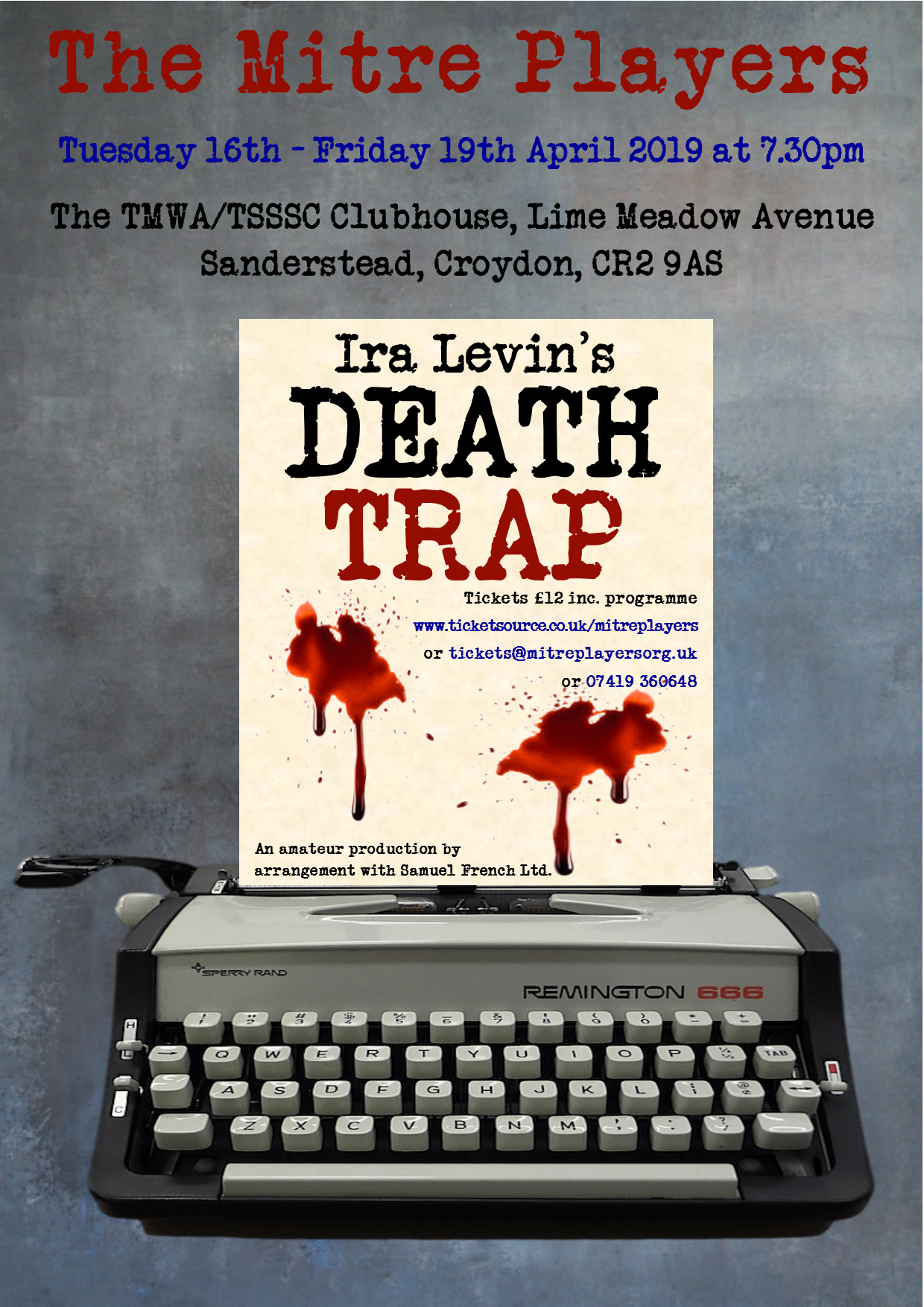 Subscriptions are NOW DUE for 2019
Bugsy Malone: Our Summer Touring Show
Due to the demise of the school accommodation at Dawlish, we have opted to tour to The Apollo Theatre, Newport, Isle of Wight. We will be performing Bugsy Malone, with a "grown up" cast. Jo Morrison is directing and Kim McEvoy will be assisting her with the choreography. Fresh from playing the "Reeds" at The Minack Theatre for Me and My Girl, Debbi Lindley is going to be MD.
We have found fantastic luxury accommodation where we can all stay together (we have booked all of the rooms/flats at www.islandriding.com).
The theatre is similar to Dawlish, but with a bigger stage and Newport as a town has got lots of things to do, places to eat and the Island is a great holiday destination.
KEY DATES:
Croydon Production: 16th -19th July. Accommodation: 26th July – 3rd Aug. Show Dates: 30th July – 3rd Aug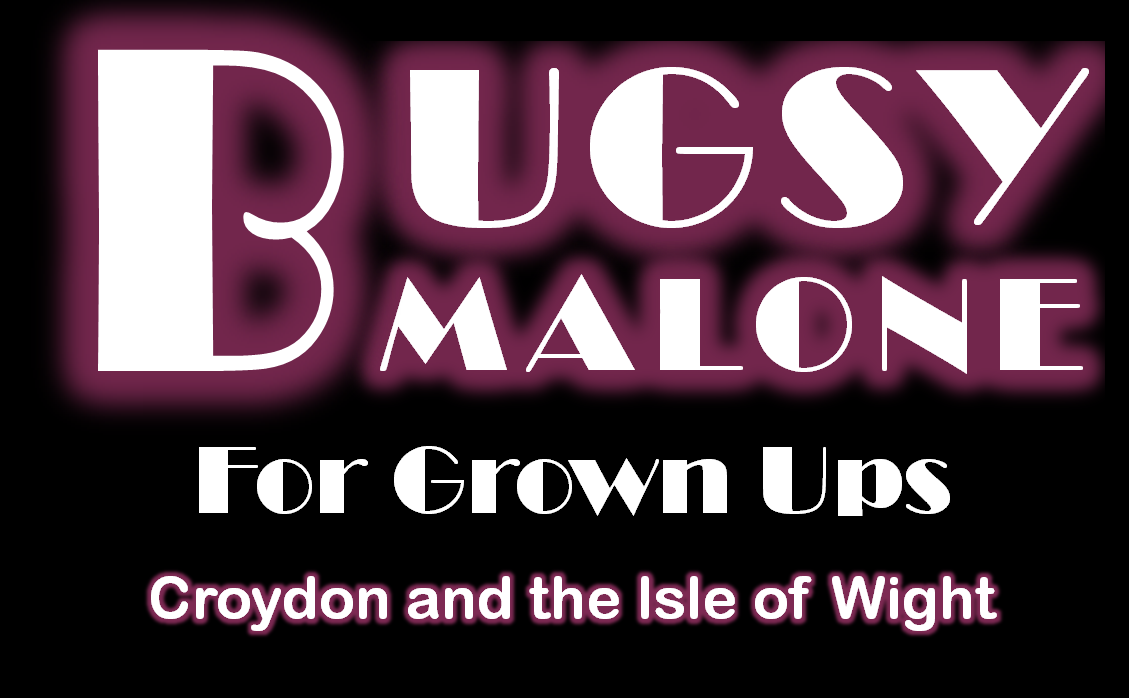 Newsletters and Mailchimps
The Mitre Players keep in touch with our members via various means.  We send regular electronic newsletters via "mailchimp" – a simple and cheap method of sending bulk emails. You can read the latest "mailchimp" HERE. 
Additionally we post "traditional" paper newsletters approximately 4 times a year. You can download a .pdf of our September newsletter HERE.
Rehearsed Play Reading: Friday 8th March at 7.45pm
This evening promises to be entertaining and informative and is presented by Mitre Patron, Paul Smith who now runs an agency promoting new plays and writers, called Smith Scripts. He has gathered a cast of 15 who will perform a rehearsed reading of some short plays and extracts of scripts – there is a huge variety of content and the evening will be split into 2 halves with a free hot meal served in the interval. The bar will be open all evening and it will be relaxed, sociable and entertaining. Tickets are FREE but do need to be booked in advance via www.ticketsource.co.uk/mitreplayers – there are still a few available. The cast list is as follows: Julia Ascott, Chris Backway, James Backway, Laura Brand, Megan Brown, Paul Grace, Andy Holton, Di Jones, Warwick Jones, Richard Jones, Charles Marriott, Jo Morrison, Toni Raye, Eve Simpson & Paul Smith. Hope to see many of our members there, especially as there will be an opportunity during the evening to make a donation to MIND in memory of our late Chairman, Alex Greenslade.
Me and My Girl: Summer 2018 at The Minack Theatre
Welcome to our new website. The old (Microsoft) site has finally expired and this new site has been launched slightly prematurely. More pages and features will be added shorty, please keep returning here.