Bugsy Malone: Our Summer Show
Due to the demise of the school accommodation at Dawlish, we have opted to tour to The Apollo Theatre, Newport, Isle of Wight. We will be performing Bugsy Malone, with a "grown up" cast. Jo Morrison is directing and Kim McEvoy will be assisting her with the choreography. Fresh from playing the "Reeds" at The Minack Theatre for Me and My Girl, Debbi Lindley is going to be MD.
KEY DATES:
Croydon Production: 16th -19th July. Isle of Wight Show Dates: 30th July – 3rd Aug
Croydon tickets can be purchased HERE
Apollo Theatre, Newport Tickets can be purchased HERE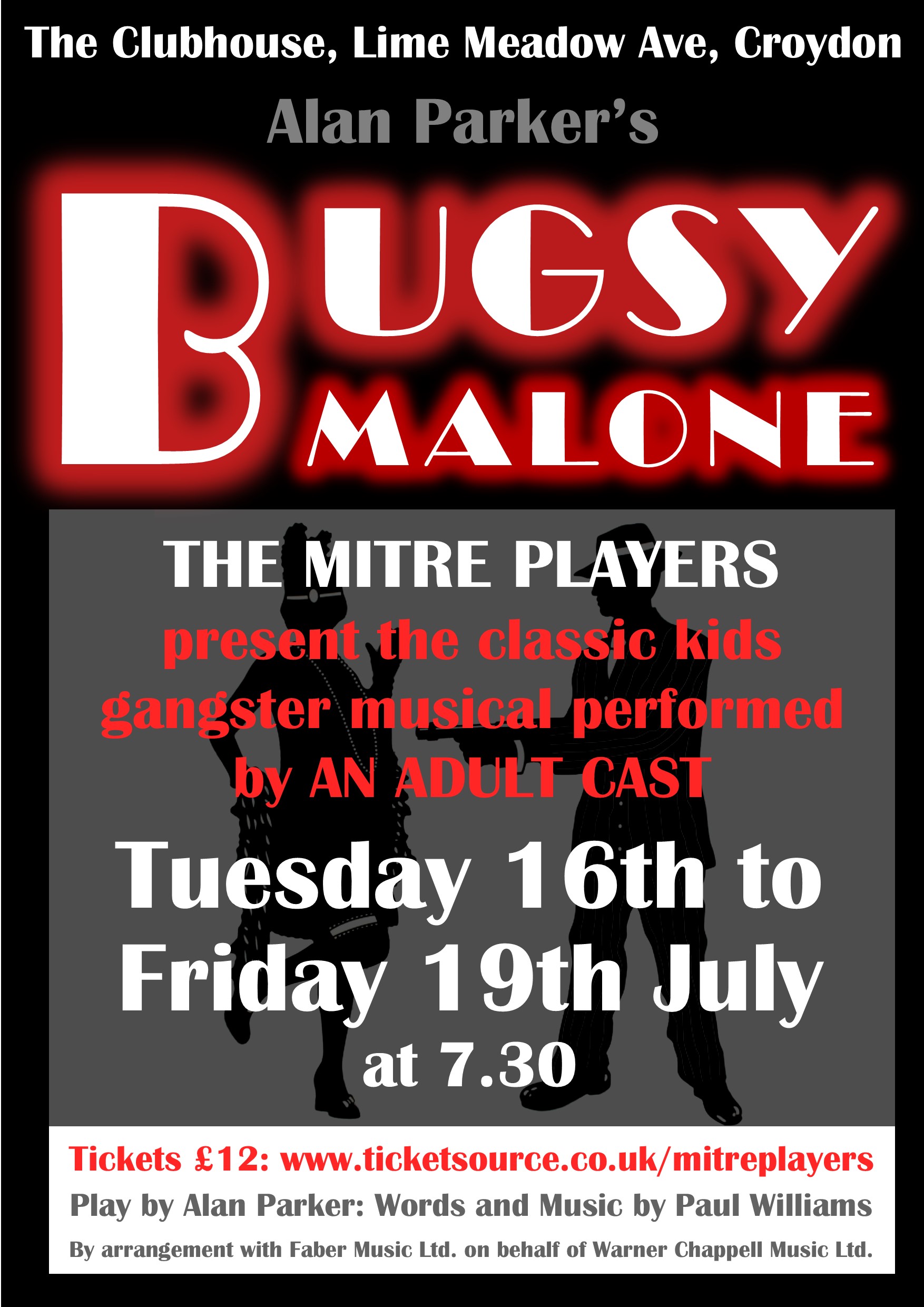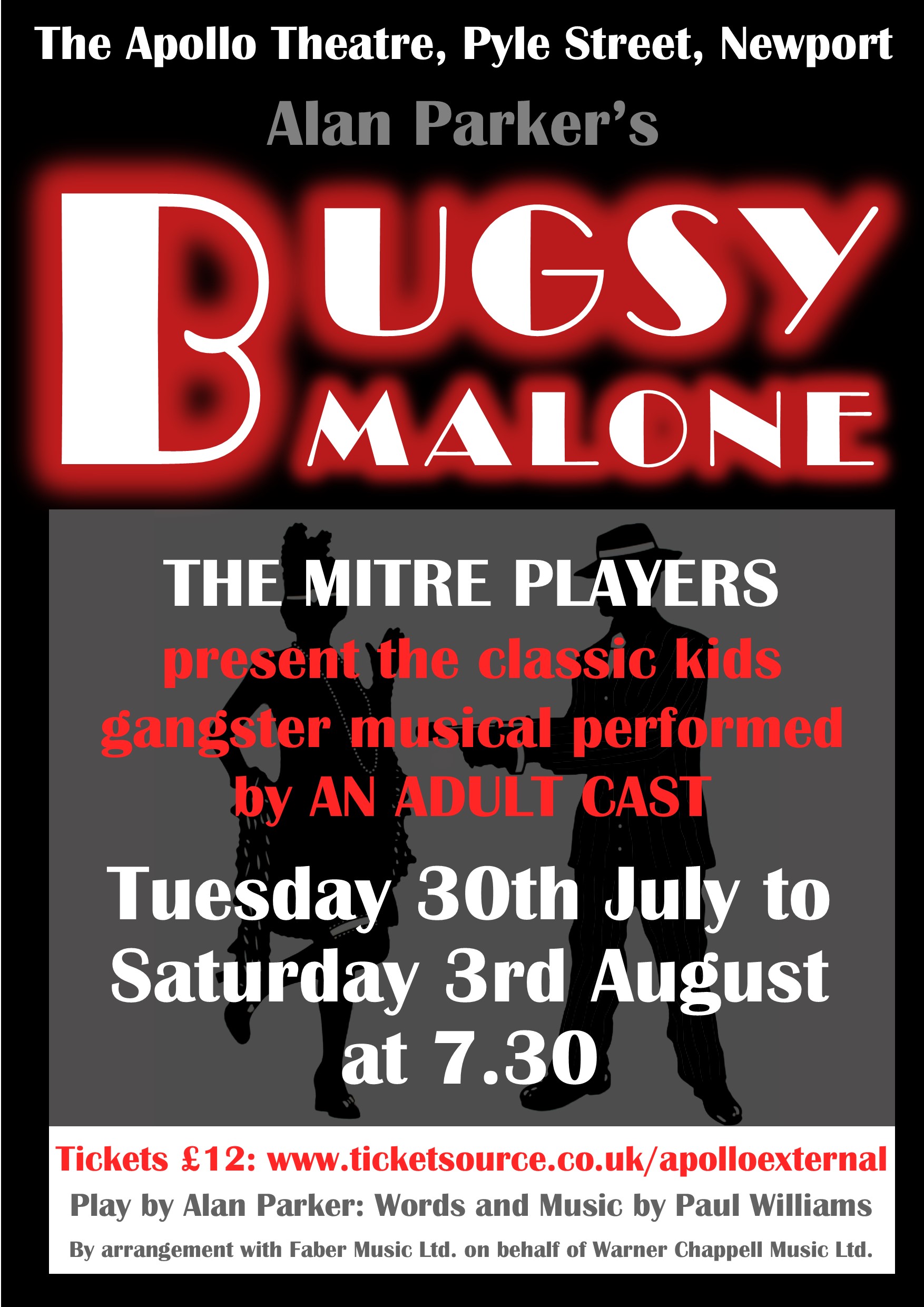 Big Fish: Our Autumn Musical: Auditions Tuesday 11th & Thursday 13th June at 7.30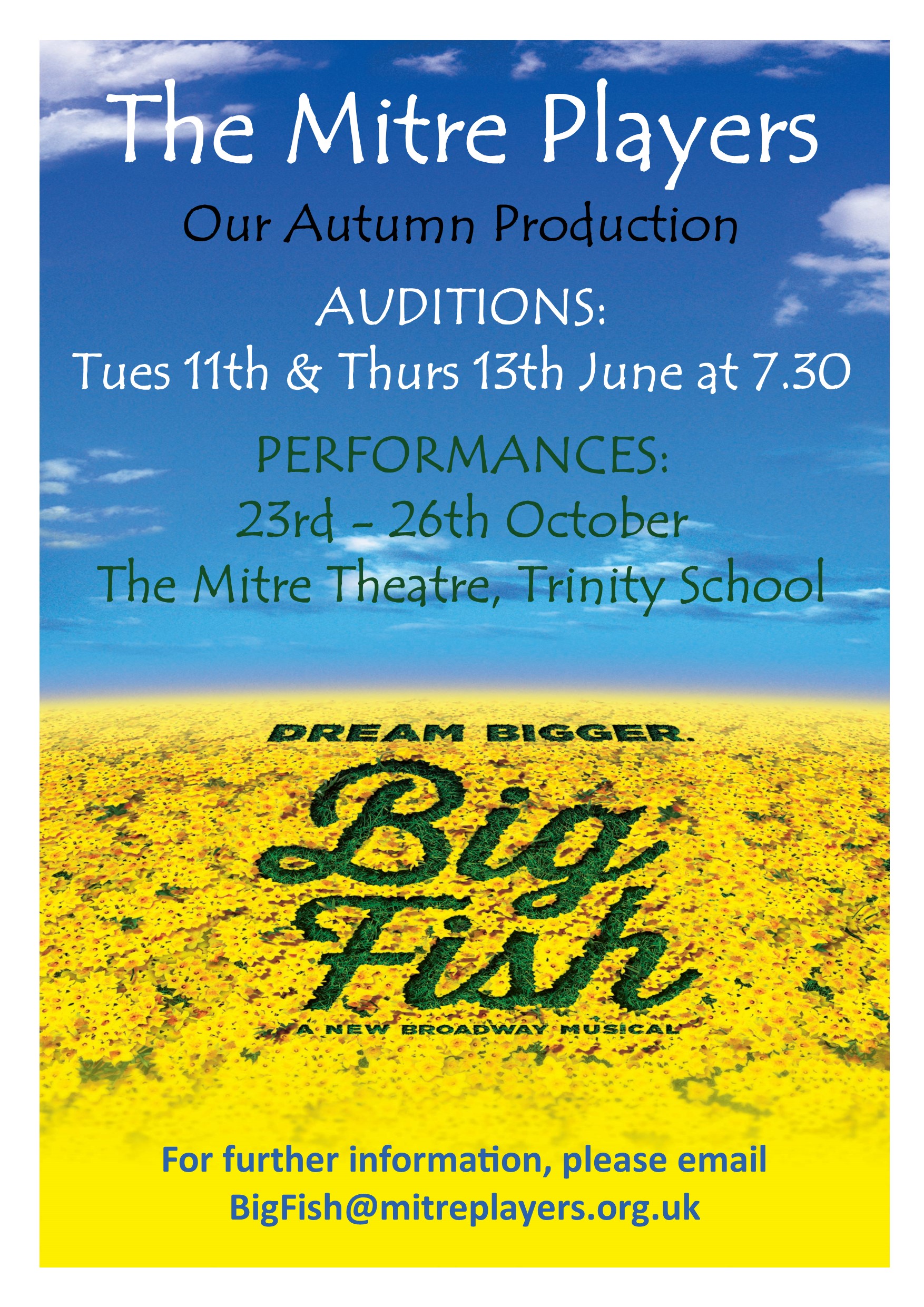 You will already know that our Autumn 2019 production will be Big Fish to be performed at The Mitre Theatre, Trinity School w/c 20th October. This is a new musical that hasn't yet been widely performed by amateurs, following a successful and well received run at The Other Palace last year.  The music is fabulous and there are lots of colourful characters and we would ideally like to do it with a cast of about 30. Julia Ascott is directing, Jo Morrison choreographer and Shaz Dudia MD.
Auditions TUESDAY 11th and THURSDAY 13th JUNE at 19.30
with rehearsals starting on 1st September on Sundays, Mondays & Thursdays.
Deathtrap: 16th to 19th April
In April 2019, the Mitre Players presented the wonderful, award-winning thriller, "Deathtrap" by Ira Levin.
Here is the review from local theatre critic, Theo Spring:
Because this play is well known to me, the building of tension by this excellent cast and their director is all the more praiseworthy. The many twists and turns involving deceit, murder and apparent resurrection brought gasps from the audience and, the first 'killing' in particular was given a huge element of speed and surprise.
Paul Grace, elegantly aged up as playwright Sidney Bruhl, swung effortlessly between malevolence and apparent kindness, as he lulled his wife into a very false sense of security and, throughout the play, it was his face that gave away his malicious thoughts, whilst his body language stayed calm and careful.
As the playwright bursting with ideas for his next production, Simon Long as Clifford Anderson was the perfect antidote to Bruhl's evil, albeit that he colluded in the plans to bring about the heart attack that successfully killed Bruhl's wife Myra.
He managed to transform himself into several different characters - the slightly over-awed playwright hoping for the success of his first play, the partner in crime, the slightly subservient secretary and finally the man with both foresight and the strength not to be quite done in by an arrow in his chest. Simon Long brought to all of these a slightly different personae, whilst never giving the game away as to his next move.
For Sarah H Gordon, the role of Myra was less complex, although she too had to be both the concerned wife as well as colluding in the murder she believed was taking place which was quite a tricky juxtaposition.
The serious plot of the play is lightened beautifully by the psychic neighbour Helga Ten Dorp, to whom Isobel Warner brought just the right amount of Eastern European accent, eccentricity and comedy. Costumed in glitter and sparkle, redolent of Madame Arcati, her hit and miss predictions added to the stealth of the tale and her business acumen helped close this often dark play on a lighter note.
Adding a note of sensible sobriety, Geoff Thorn took the cameo role of Porter Milgrim, the solicitor who brought the news of the paucity of Myra's estate.
I am constantly amazed at Mitre's ability to create such effective and workable sets within the confines of the small area at their disposal. Here Alan Collins managed to create a sense of space and of more of the house and garden than just the stable office in which the action takes place for which he deserves full credit for his ingenuity. The hard task of the sourcing of weapons, particularly the important crossbow, fell to Elizabeth Lee and Sue Long, in charge of props, and their range, displayed so prominently on the walls of the office, added much to plot. Sound (James McLeod) and Lighting (Alan Bishop) also played an important part, with a particular mention for a storm which wouldn't have been out of place in King Lear.
Anna Warnock's costumes provided a selection of just the right jumpers for our protagonists to sport, keeping very much to the late 1970's era.
This play, which has had major professional popularity, is now a staple of the amateur drama circuit and the unease and apprehension built up here would be hard to beat, so to director Julie Cumbo goes the accolade of keeping the tension going and the twists and turns hidden until they, sometimes literally, jumped out at you. A production of which to be justly proud.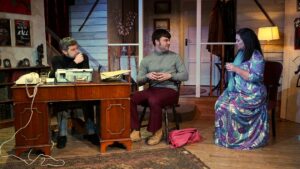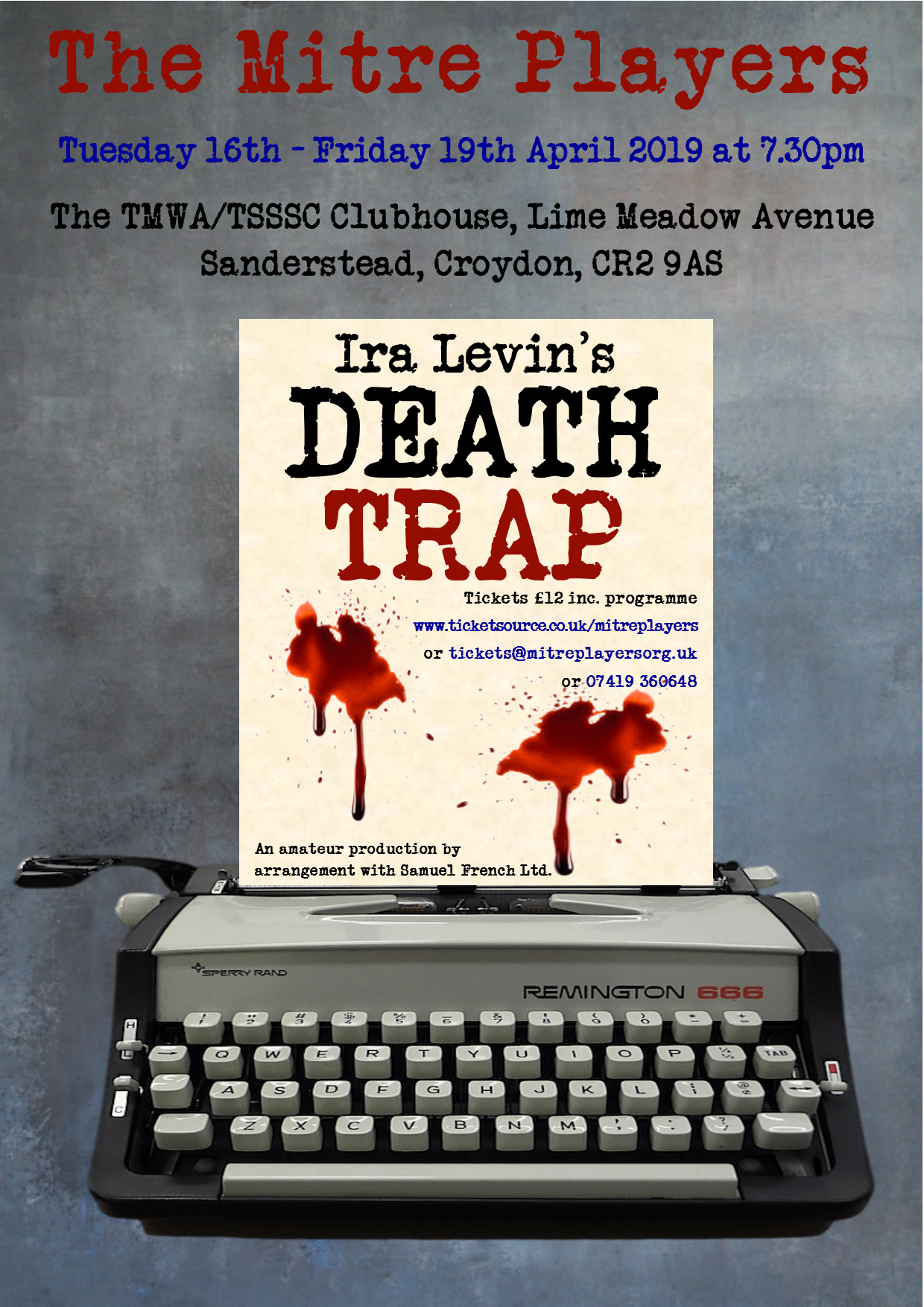 Subscriptions are NOW DUE for 2019
Newsletters and Mailchimps
The Mitre Players keep in touch with our members via various means.  We send regular electronic newsletters via "mailchimp" – a simple and cheap method of sending bulk emails. You can read the latest "mailchimp" HERE. 
Additionally we post "traditional" paper newsletters approximately 4 times a year. You can download a .pdf of our September newsletter HERE.
Rehearsed Play Reading: Friday 8th March at 7.45pm
This evening promises to be entertaining and informative and is presented by Mitre Patron, Paul Smith who now runs an agency promoting new plays and writers, called Smith Scripts. He has gathered a cast of 15 who will perform a rehearsed reading of some short plays and extracts of scripts – there is a huge variety of content and the evening will be split into 2 halves with a free hot meal served in the interval. The bar will be open all evening and it will be relaxed, sociable and entertaining. Tickets are FREE but do need to be booked in advance via www.ticketsource.co.uk/mitreplayers – there are still a few available. The cast list is as follows: Julia Ascott, Chris Backway, James Backway, Laura Brand, Megan Brown, Paul Grace, Andy Holton, Di Jones, Warwick Jones, Richard Jones, Charles Marriott, Jo Morrison, Toni Raye, Eve Simpson & Paul Smith. Hope to see many of our members there, especially as there will be an opportunity during the evening to make a donation to MIND in memory of our late Chairman, Alex Greenslade.
Me and My Girl: Summer 2018 at The Minack Theatre
Welcome to our new website. The old (Microsoft) site has finally expired and this new site has been launched slightly prematurely. More pages and features will be added shorty, please keep returning here.